We are proud to announce that our founder, Sandra de Monte, has been awarded Most Influential Tech Health Care Businesswoman, London, in the Influential Businesswoman Awards 2023. Here is a full copy of the article published by Acquisition International.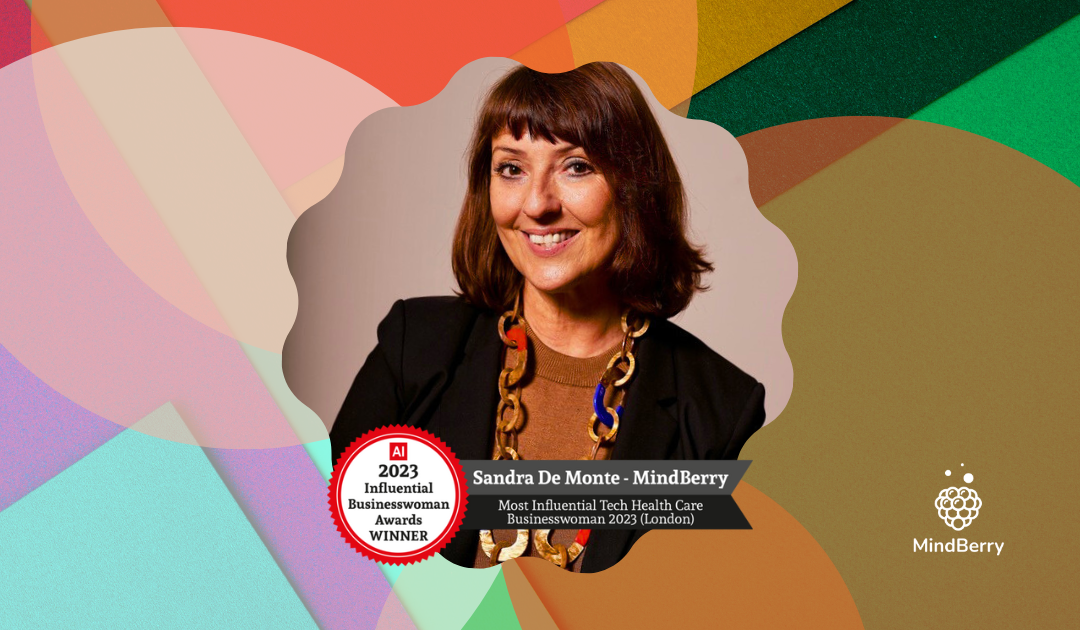 MindBerry is an award-winning provider of coaching and therapy services, using technology to connect the world with mental health professionals. It primarily serves institutional clients, helping employees become happier, more resilient and productive individuals. The company was founded by Sandra de Monte, Head of Client Relations, who is a qualified integrative psychotherapist and certified online counsellor.
MindBerry helps individuals, teams, and companies reach their full potential by providing access to wellness coaching, specialised mental health programmes, and counselling. To do this, the company has designed a proprietary platform, through which users can connect with qualified and experienced mental health professionals at any time, in any place.
MindBerry can effectively be used by organisations to support the mental health of their employees, creating a culture of support and care. By investing in the wellbeing of their staff members, employers can boost productivity in the workplace and ultimately drive the growth and success of their business.
Using MindBerry, employees can choose their own therapist, counsellor, or business psychologist from a team of more than 150 professionals, who specialise in over 45 different topics. Whether they want to work on their mental health or develop new skills to help them thrive at work and in their personal lives, MindBerry makes it easy for them to find a professional that can help.
Sessions can be held in person, virtually on MindBerry's proprietary platform, by telephone, or by direct messaging.
As well as one-to-one appointments, MindBerry also delivers group 'lunch and learn' sessions on a range of different topics, helping to raise awareness about mental health and enhance leadership and work skills through interactive discussion. It also offers self-help tools such as guided mindfulness sessions, yoga videos, and meditation.
Since the creation of its platform, MindBerry has been able to help thousands of employees by connecting them with its global team of clinically trained professionals, enabling them to work through their mental health and wellbeing challenges with the support they deserve.
During her many years working in financial services and investment management, Sandra de Monte, Founder and Head of Client Relations at MindBerry, experienced for herself the lack of wellbeing and mental health support available in many corporate settings. She was inspired to study Integrative Psychotherapy and create MindBerry with the aim of making these essential support services available to employees at anytime, anywhere.
Today, Sandra works tirelessly to ensure that her company achieves this goal and more. "My day job is two-fold. I personally interview all professionals that would like to join our team. Maintaining the quality, experience, and integrity of our team is the only way to ensure that MindBerry delivers a service that we can be proud of," she explains. "I also work with our clients, making sure we exceed their expectations in the way we work with their employees and teams."
Having founded MindBerry six years ago, Sandra is proud to have played a part in raising awareness about mental health while supporting countless individuals on their wellbeing journeys. She is thrilled to be a part of a company that is making positive social change, working within a passionate and driven team.
As a result of the outstanding services provided by MindBerry, Sandra de Monte has been awarded Most Influential Tech Health Care Businesswoman, London, in the Influential Businesswoman Awards 2023. We congratulate her on this commendable achievement.
When asked about MindBerry's future plans, Sandra shares, "We are launching our Resilience App very soon. Resilience is the ability to withstand adversity and bounce back from difficult life events. By assessing your time perception, bodily awareness, burnout, ways of coping, anxiety, and self-care, MindBerry's resilience app will provide recommended activities that strengthen your resilience."
Acquisition International – Influential Businesswoman Awards 2023